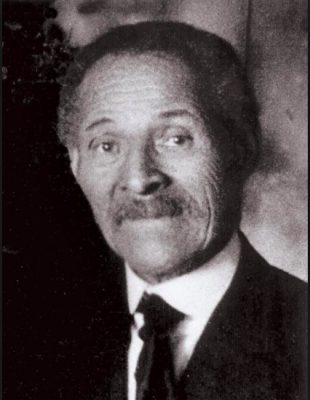 Best known for still life paintings of meticulous realism and rich colors, Charles Porter was born to a free African American family in Rockville, Connecticut in 1847. His early interest in drawing was matched by inspiration found in his mother's garden and the Connecticut fields and woodlands. Growing up he saved money from odd jobs in order to attend art school. Just a few years after the Civil War ended in 1869, Porter became the first African American to attend the National Academy in New York.
After his studies, in 1878, Porter set up a studio in Hartford, Connecticut. Porter did well in Hartford – his fruit and flower paintings were purchased by area collectors. As well, local resident Mark Twain bought his work and hung it prominently in his dining room, and landscape painter Frederic Edwin Church visited his studio, also acquiring a painting, and complimented his use of color.
Critics also noted his work. Writing in Art Amateur (June 1879) one reported: "Charles E. Porter, a negro artist of Hartford [makes] admirable pictures of flowers, fruit, butterflies and other insects, all have a finesse and accuracy of touch that would do credit to the microscopic finish of the old Flemish painters."
Porter succeeded well enough in Hartford to fund a trip Paris. In 1881, age 34, he held an auction in his Connecticut studio, selling 100 paintings for a total of $1,000 — enough to support himself for two years in the French art capital. While in Paris, he attended the impressive French National Academy for Decorative Arts and Académie Julian.
"I am aware that there are a goodly number of my Hartford friends and others who are anxious to see how the colored artist will make out," Porter wrote to Twain from Paris in 1883. "But this is not the motive which impresses me. There is something of more importance, the colored people — my people — as a race I am interested in, and my success will only add to others who have already shown wherein they are capable the same as other men."
Porter returned to Connecticut in 1883. For the next several years he created some of his best work, combining technical virtuosity with sophisticated composition. But soon after, tastes changed and Porter's precise, academic style looked old-fashioned as Impressionism became the prevailing trend. Nevertheless, he continued in his commitment to still life. Typical of the works of this period, is Chrysanthemums (a type of flower he revisited) from 1888, now more loosely and lushly painted.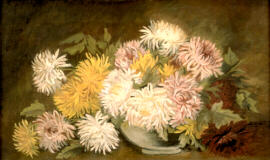 Shortly thereafter there was a decline of popular interest in Porter's work. A national economic downturn and persistent racism exacerbated his woes. In a desperate effort to raise funds to live on, Porter mounted a large exhibition and auction in downtown Hartford that was chronicled in the generally supportive local press. In spite of newspaper exhortations for patrons to buy the artist's work, attendance was poor and sales were sluggish.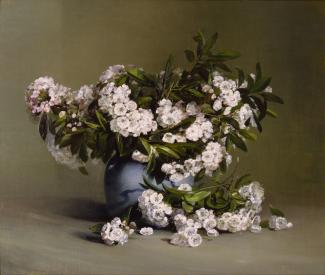 In the 1890s, Porter left Hartford, dividing his time between Rockville and New York City. Around 1897 he settled permanently in Rockville, where he continued to paint, teach and exhibit until 1914. Painted around 1900, Peonies in  the Mattatuck collection demonstrates his mature skill. It is painted with translucent colors and rich, full brushstrokes. The use of light and dark colors are utilized to create a dramatic floral portrait where the artist's emphasis is upon the natural beauty of the lush blooms.
After 1910, in his later years, Porter's work deteriorated precipitously; Porter biographer, Hildegard Cummings speculates that racism, poverty and illness played a part in his decline. Suffering from nephritis, he died in 1923, and is buried with family members in Grove Hill Cemetery at the foot of Fox Hill.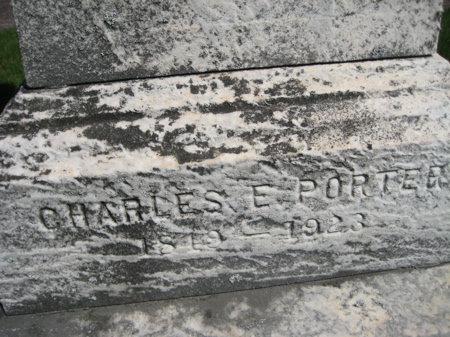 Art dealers and historians didn't significantly embrace Porter until the 1980s. "If you turn the clock back 30 years, or 20 years," explains Michael Rosenfeld of the New York-based Michael Rosenfeld Gallery, which has sold Porter's work for roughly 30 years, "there weren't so many people interested in African American art, and certainly not historic works." Though Porter has taken a while to claim his place as a skilled and accomplished painter in an American art, he is now recognized as one of our great still life painters.
Lesson Plan and Activities
Lesson Plan: Charles Ethan Porter
Activity: Collage
Activity: Still Life Painting
Other Resources
More on Charles Ethan Porter:
CT History
Article in Hyperallergic