The Mattatuck Museum is an art and regional history museum on the Green in downtown Waterbury, starting out as a historical society in 1877. The Museum opened its first display hall in 1912 and has been exhibiting art ever since. The museum collects and exhibits American art and cultural history – with a focus on the history of the Naugatuck Valley and the artists of Connecticut.
We use our history collections to tell the stories of our community and partner with neighborhood associations, ethnic organizations and manufacturing groups. Our art galleries display the work of American masters associated with our state and include Anni Albers, Alexander Calder and Frederic Church. The Mattatuck also presents more than 25 changing exhibitions every year featuring significant artist of the past as well as today's contemporary artists. The Museum is also home to a button gallery displaying 10,000 miniature works of art collected from around the globe and donated to the Museum in 1999 by the Waterbury Companies (formerly Waterbury Button Company).
Mission
The Mattatuck Museum is a center of art and history, a gathering place that nurtures creativity and learning through transformative experiences to encourage a deeper understanding of ourselves and our heritage.
Vision
The Mattatuck Museum will be known as a vibrant destination inspiring visitors from New England and beyond.
Core Values
Access: We are welcoming, accessible and collaborative.
Stewardship: We embody integrity, ethical practice and accountability in the care, enrichment and use of our human, financial and physical resources.
Community: We are committed to fostering strong relationships with our community to build a common future.
Education: We promote the unique connections between art and regional history to inform, challenge and engage a diverse public.
Inspiration: We challenge expectations and provide a stimulating environment that inspires curiosity and awe.
Land Acknowledgement
The Mattatuck Museum, so called after the Eastern Algonquin name for the land on which it was built, recognizes that the land we interpret as the "Mattatuck Plantation" through our history mission, is the original homeland of the Tunxis, Paugussett, Pequannock, and Potatuck tribal nations.  We acknowledge the painful history of forced removal from this territory, and we honor and respect the Indigenous Peoples that were, and are still, connected to this land. We recognize the reverberations of colonialism past and present, and seek healing through this acknowledgment.
Strategic Plan
Find out how the Mattatuck plans to continue as a vibrant destination, and learn about the exciting new developments on the horizon!
Download Our Strategic Plan
Capital Campaign to Reimagine and Expand the Museum
Learn more about the Mattatuck's plans to reimagine the Museum while continuing to be a welcoming, inclusive, stimulating and enriching community anchor.
Donor Information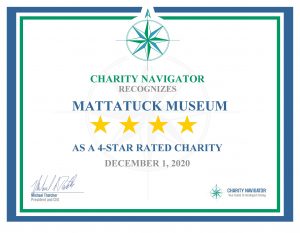 Visit our page on Charity Navigator.