The Mattatuck Museum is an art and regional history museum on the Green in downtown Waterbury, starting out as a historical society in 1877. The Museum opened its first display hall in 1912 and has been exhibiting art ever since. The museum collects and exhibits American art and cultural history – with a focus on the history of the Naugatuck Valley and the artists of Connecticut.
We use our history collections to tell the stories of our community and partner with neighborhood associations, ethnic organizations and manufacturing groups. Our art galleries display the work of American masters associated with our state and include Anni Albers, Alexander Calder and Frederic Church. The Mattatuck also presents more than 12 changing exhibitions every year featuring significant artist of the past as well as today's contemporary artists. The Museum is also home to a button gallery displaying 10,000 miniature works of art collected from around the globe and donated to the Museum in 1999 by the Waterbury Companies (formerly Waterbury Button Company).
Mission
The Mattatuck Museum is a center of art and history, a gathering place that nurtures creativity and learning through transformative experiences to encourage a deeper understanding of ourselves and our heritage.
Vision
The Mattatuck Museum will be known as a vibrant destination inspiring visitors from New England and beyond.
Core Values
Access: We are welcoming, accessible and collaborative.
Stewardship: We embody integrity, ethical practice and accountability in the care, enrichment and use of our human, financial and physical resources.
Community: We are committed to fostering strong relationships with our community to build a common future.
Education: We promote the unique connections between art and regional history to inform, challenge and engage a diverse public.
Inspiration: We challenge expectations and provide a stimulating environment that inspires curiosity and awe.
Diversity, Equity, and Inclusion
The Mattatuck Museum is fortunate to exist in such a diverse city. We are committed to building and sustaining a diverse and inclusive community, including addressing barriers to the full inclusion of historically underrepresented groups. Recognizing that multiple voices and perspectives enrich our work, we embrace a broad definition of diversity and are dedicated to ensuring an environment where differences are valued and respected and where all members of our community are fully engaged participants in our mission.
Our greatest strength is our community—our staff, neighbors, partners, volunteers, and visitors—who inspire and enrich our ongoing work in interpretation, preservation, research, and education. We strive to offer a welcoming and accessible home for our collections of art, history, and cultural heritage and for the people who care about them.
We believe that: Diversity has many aspects. We understand the importance of words and that meanings evolve. We define diversity to include race, ethnicity, gender, gender identity, religion, culture, national origin, sexual orientation, physical abilities, age, parental status, philosophy and viewpoint, and socio-economics. We define inclusion as the practice of ensuring access to Museum services and facilities, including employment, exhibitions, programming, and other opportunities. We define equity as the absence of disparity. Together, these values create a rich community of opinion and skills necessary for the Museum to achieve its Mission and Vision.
Museums have long been isolated from the people they serve. Systemic exclusion rooted in a failure to understand and acknowledge multiple types of expertise has served as a barrier to the full participation of historically underrepresented groups. We strive to remove these barriers through asking questions and actively listening to the answers with people and groups contributing a variety of voices and perspectives.
We have much to learn. We acknowledge that culturally diverse understandings of art and history exist side by side and enrich one another; there are multiple ways of knowing. This means that while the Mattatuck has a great deal to offer through its collections we also have much to learn from others. Through patient, attentive relationship-building we hope to progress from collaboration to healing and ultimately, to find joy, strength, and resiliency for the Museum and for all those we serve.
While we are confident in our values and eager for change, we realize that the aspirations laid out here are part of an imperfect, dynamic, living process. Authentic work in diversity, equity, and inclusion requires shifting our mindset, in ways that can be challenging and sometimes painful.
Land Acknowledgement
The Mattatuck Museum, so called after the Eastern Algonquin name for the land on which it was built, recognizes that the land we interpret as the "Mattatuck Plantation" through our history mission, is the original homeland of the Tunxis, Paugussett, Pequannock, and Potatuck tribal nations.  We acknowledge the painful history of forced removal from this territory, and we honor and respect the Indigenous Peoples that were, and are still, connected to this land. We recognize the reverberations of colonialism past and present, and seek healing through this acknowledgment.
Strategic Plan
Find out how the Mattatuck plans to continue as a vibrant destination, and learn about the exciting new developments on the horizon!
Download Our Strategic Plan
Capital Campaign to Reimagine and Expand the Museum
Learn more about the Mattatuck's plans to reimagine the Museum while continuing to be a welcoming, inclusive, stimulating and enriching community anchor.
Donor Information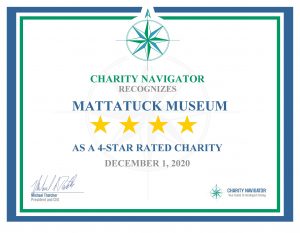 Visit our page on Charity Navigator.