The Mattatuck Museum has over 125 distinct archival collections spanning over 700 linear feet. Users who are interested in learning more should contact the archivist, Frances Martin, at frances@mattmuseum.org
M-1 Plume and Atwood Company Records, 1874-1895 and 1909-1957
This collection is composed of the records of the Plume and Atwood Company, which made sheet brass, wire, lamp parts, rivets, fasteners, and other small brass goods.
M-2 Waterbury Button Company Records, 1849-1935
The Waterbury Button Company was founded in 1812. The collection is largely composed of business documents including correspondence, bills, receipts, account details, patents, and ledgers. The collection also contains the J. R. Smith Papers. Smith was President of the company and the papers mostly relate to the Waterbury Country Club, of which he was a founder.
M-3 Great Brook Manufacturing Company Records, 1856-1911
This collection documents the founding of the collective which served the purpose of building and maintaining a dam and reservoir in Great Brook at Buck's Hill.
M-4 The Waterbury Railroad and Transportation Collection, 1849-circa 1920, 1928-1997
This is an artificial collection composed by the archivists at the Mattauck Museum to document the railroad and transportation development in and surrounding Waterbury. The collection is largely paper based, but also includes various tokens used for passage.
M-5 The Waterbury Manufacturing and Business Collection, circa 1770-1984 and undated; bulk 1824-1890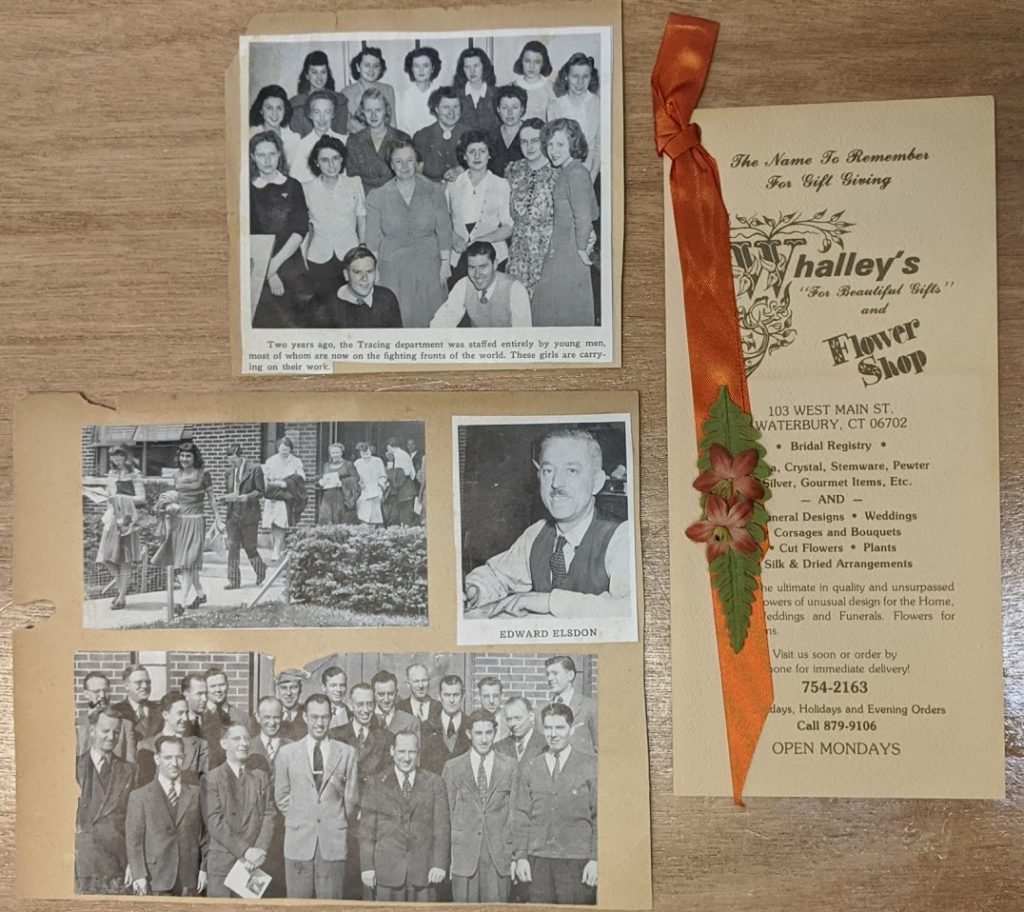 The archivists for the Max R. Traurig Library have collected material regarding the industrialization and modernization of Waterbury. Document types include: account books, pamphlets, broadsides, advertisements, administrative records, general summaries by historians, and manuals.
M-6 The Elton Family Papers, 1779-1935
The Elton family was a significant Waterbury family. This collection documents the professional and personal relations of several members largely through correspondence and administrative papers. Of special interest are several family and local histories.
M-7 The Kingsbury Family Papers, 1783-1937
This collection documents the everyday, professional, and philanthropic life of several members of the Kingsbury family. While the collection is largely paper based, there are also publications related to the Kingsbury family, daybooks, account ledgers, and various photographic formats.
M-8 The George L. Lilley Papers, 1899-1909
George L. Lilley served in the Connecticut State House of Representatives from 1901-1903. From 1903 through 1909 he serves as a US Congressman. Finally, he served as Governor from January 5 through April 21, 1909, when he passed away in office. This collection documents his various activities as a politician. Additionally, there is a small amount of personal material.
M-9 The Pritchard Family Papers, 1749-1920 and circa 2017
This collection documents several generations of the Pritchard family, who were from Waterbury, CT. Correspondence and ledgers highlight several of the family's businesses. Sarah and Katharine's interest and work in local history can be found in correspondence and professional writings. This collection is entirely paper based, but photographs of the family members can be accessed through the Mattatuck's Photograph Collection.
M-59 The Stereograph Card Collection, 1895-1905
The collection contains 103 stereograph cards spanning 1895 though 1905. Subjects include: Americana, documentary scenes, monuments, a presidential inauguration, scenes involving African Americans, places, animals, and jobs.
M-60 Raymond Donnelly WWII Scrapbook Collection, circa 1944-1946
The Raymond Donnelly WWII Scrapbook Collection is composed of one scrapbook that Donnelly created between 1944 and 1946. The scrapbook contains photographs that document the aftermath of WWII in Europe.
M61 Glass Plate Photograph Prints of Waterbury Collection, circa 1890-circa 1905
This small collection contains 171 photographs printed from glass plate negatives. Subjects depicted include: the 1902 fire; groups of people; interiors of residences; transportation including horse drawn carriages, trains, and cars.
M62 The Elsie Flink Papers, circa 1895, circa 1916-1996, 2020 and undated
The personal papers of Elsie Flink, Waterbury resident and personality. Flink worked at several local factories and was a member of St. John's Church. She participated in a study about radium poisoning since she was one of Waterbury's Radium Girls.
M63 Horton Family Papers, circa 1930, circa 1940, circa 1942, 1955, and 2020
This small collection contains material relating to three generations of women who have lived and worked in Waterbury.
M64 Chief Two Moon Collection, 1926-1932 and 1955-2013
Chief Two Moon Meridas was an entrepreneur who lived in Waterbury from circa 1918 through his death in 1932. He utilized stereotypical imagery of indigenous peoples to sell "herbal tonics." The collection includes Chief Two Moon Herb Company administrative forms, product sleeves, newspaper clippings, and advertisements from circa 1920-circa 1932. Advertisements range in type from small booklets, to broadsides, to a cardboard stand that would have been displayed in a pharmacy. There are several black and white photographs depicting Chief Two Moon's personal life, as well as his professional career.
M65 Waterbury Civil Rights Collection, 1963-1970 and 1978
This collection documents the 1968 State Commission on Human Rights and Opportunities public hearings in Waterbury. The commission was concerned with four areas: Housing, Education, Employment, and Police-Community Relations. The collection contains the 8 volumes of verbatim testimony, reports and responses, as well as contextual newspaper clippings in the 1960s and 1970s.
M66 Records of the Waterbury Maternal Health Center Trial, 1936-1940, 1942 and 1983
This collection documents the trial of the State vs. McTernon, Nelson, and Goodrich. This was a landmark case in Connecticut regarding the right to access birth control. Between 1938 and 1939 the Waterbury Maternal Health Clinic provided contraceptive materials to women. In 1939 the police seized all contraceptive materials and a trial ensued. J. Warren Upson successfully defended the nurse and doctors charged.