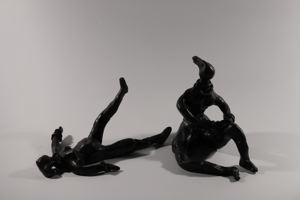 (b. 1947)
Luxury of Exercise, 2009
Cast bronze, (a) 9 x 6 x 3 ¾ (b) 6 ¼ x 4 x 5 ¼
Anonymous gift in honor of Lyda Hawkins Wright  2017.18a-b
Mixed media artist Claudia DeMonte is known for her analysis of contemporary women's roles. These two sculptures are part of a series of bronze pieces called 'The Luxury of Exercise'.  They are small works that show yoga and stretching positions.
DeMonte has used Luxury of Exercise as titles of work for decades. She was inspired by a 1970's trip to Tunisia where she saw a man on a donkey. He was whipping a woman carrying a load on her back to go faster. The sight had the artist realize that living in a culture where we pay to go to a gym to stay in shape, buy fancy shoes and clothes, was indeed a Luxury. That our country is so rich, we have diseases of abundance such as the luxury to overeat, unlike so many in the world. This has led to an exercise industry.