Two generations after the Flood of '55, Waterburians continue to observe the disaster with newspaper and journal accounts, museum exhibitions and special programs. Not all of today's Waterbury population have first-hand knowledge of this scarring experience – what follows is a brief account.
"City's Streets Turn Into Raging Torrents" ran the Waterbury American headline explaining how the normally placid Naugatuck River, swelled by driving rains brought by Hurricanes Connie and Diane, overflowed its banks. It crested about 27 feet above its low water level. Writer Harriet Rau observed that the river set off on a "killer rampage that destroyed lives, homes, businesses and industries." Friday and Saturday, August 18-19, 1955, made a "weekend in hell" declared the Sunday Republican
The waters rose so rapidly in the early morning hours of that black Friday that employees were trapped in mills and factories as families climbed to the upper stories and roofs of their homes. Civil Defense Coordinator area director Rocco Mara set up headquarters at Barnard School, calling for help from many quarters. All police and fire personnel were called in and many manned rescue rowboats. The state guard was mobilized, the Red Cross set up evacuation centers and local doctors were stationed at various shelter points. 12 Sikorsky helicopters saved 297 persons in a rescue centered around Waterbury. Part of that operation included flying doctors and nurses to Waterbury hospitals from isolated areas. The Hartford Courant observed that heroism was a commonplace thing on Friday.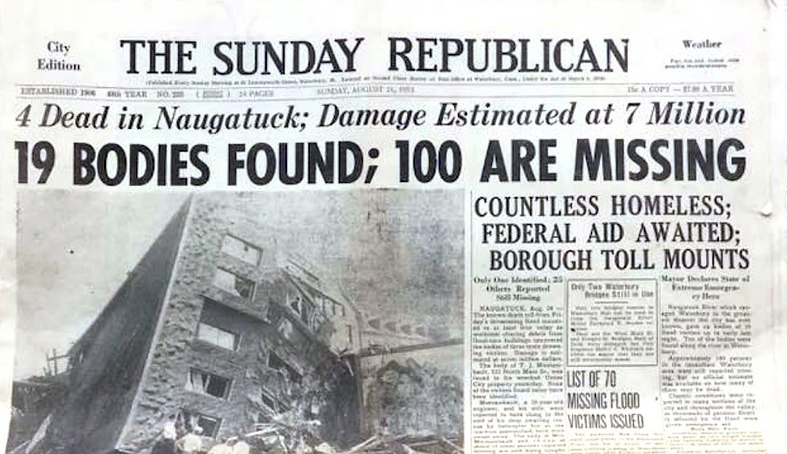 Sunday Republican Reporter Tony Pavone, looked back in 1985, the 30th anniversary of the event identifying that in Waterbury, the Flood
• Swept away 17 multi-family houses, some with people in them
• Carried away bridges, splitting the city in two
• Tossed about hug railroad boxcars like toys while twisting miles of railroad tracks into spaghetti
• Washed many people out of their jobs, as well as their homes
• Knocked out electricity, municipal water, telephone, and gas serves.
The flood caused Waterbury more than $53 million worth of damage and claimed the lives of 29 city residents. Pavone writes that survivors shared their "tales of daring rescues and awesome sights, grief and heartbreak, fear and horror, relief and gratitude." Along with the distress, the stories often indicated a resolve to carry-on and a determination to rebuild. One year after the devastating flood, Governor Ribicoff thanked the state's citizens for a magnificent comeback and for the unparalleled accomplishment made under the state's Flood Recovery Act.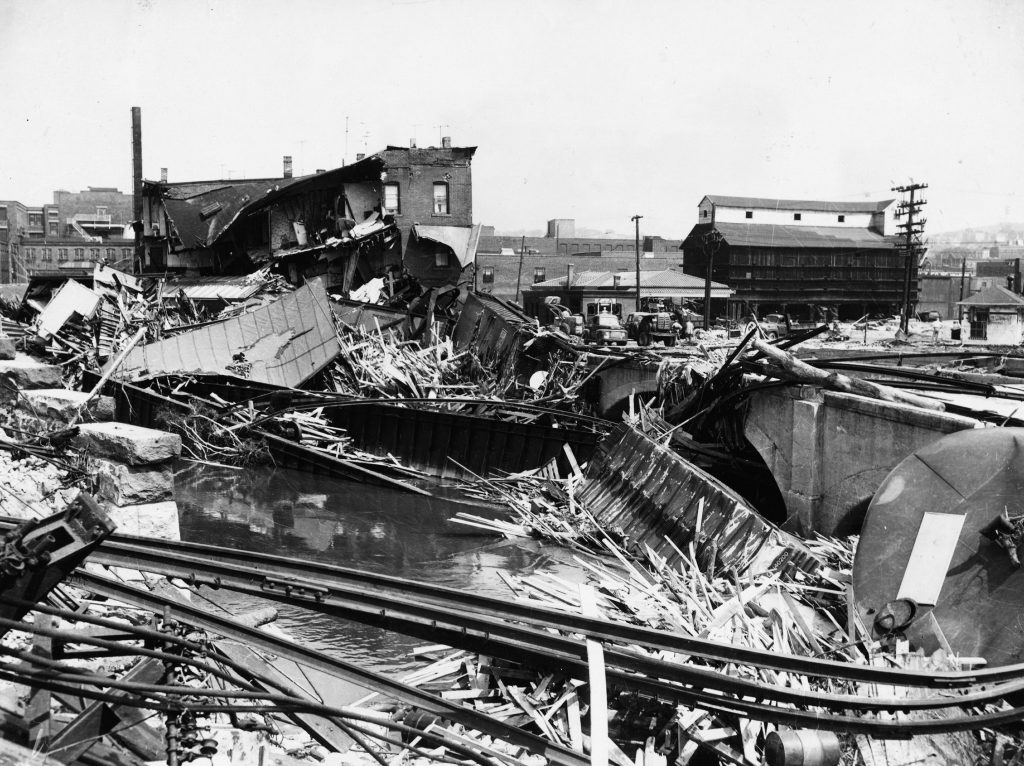 On August 19, 1955 Connecticut was the hardest hit victim of the worst flood in the history of eastern United States. Following the disastrous flood, Governor Abraham Ribicoff appointed a twenty-member committee to study the immediate problems to be faced and to develop an immediate and long-range recovery program (Archives, Connecticut State Library). Among the businessmen and government officials in the group was John A. Coe, President of Waterbury's American Brass Company; he served on the rehabilitation planning subcommittee. A most appropriate assignment. Like many other Waterbury manufacturers, Coe's plan was to rebuild, not to flee. "We wouldn't think of moving, " Coe told Fortune Magazine (November 1955) reporter Dero Saunders, "We've been doing business here in Connecticut for one hundred and forty years and that's long enough to have a heritage."
Plume & Atwood President Thomas Boak also shared his thoughts with Saunders: "Our people live right here — we can't move them. This plant was started in 1853 by Seth Thomas. We may be damn fools, but we're staying and we're going to be in business where our skilled labor lives and that's right here." As well, a special edition of Chase News (September 1955, Mattatuck Archives) assured readers that though no one could say just when the Metal Works would resume full operations, company officials estimated about two months – though some departments could operate sooner than that.
Managements of flood-damaged companies brought their workforce back to work right away – not to run the machines and produce product, but to clean-up and salvage. Coe, writing "A Message From the President" to his brass company staff (September 1955 brochure, Mattatuck Archives) identified "The spirit of our employees has been an inspiration to us all and has strengthened our resolve to rebuild." Companies that were not badly hit lent equipment and supplies to companies that were. Industrial distributors and other suppliers offered special services at reduced prices, customers accepted postponed deliveries. "It might interest you to know, " wrote Waterbury Farrel's President J. M. Schaeffer in a letter to his employees quoted in Fortune, "that one company offered to recondition all of our grinding wheels free of charge."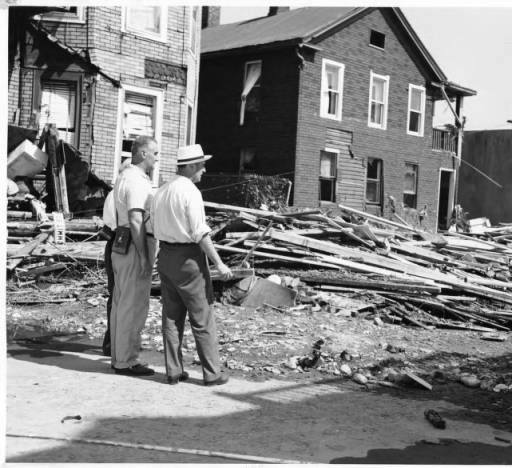 In early November, Governor Ribicoff recognized that, with relief agencies working at maximum
capacity and with the rapid progress being made in the physical process of recovery, Connecticut seemed to be moving slowly but steadily along the road back. Recovery, though not perhaps complete recovery, for these large manufacturers was accomplished sooner than might have been expected. In the Fortune article, Saunders suggested it should be just about complete before Christmas. This estimate is supported by the Chase News report that "Our come-back progress is something to see. It is nothing short of remarkable."
Getting people back to work at the manufacturing plant was a significant push to normalcy but the damage and loss to private property was extensive and demoralizing. The Governors Flood Recovery Report clearly identifies the costs in death, injury, suffering and property and offered extensive recommendations and estimated costs about aid to flood victims and towns and redevelopment planning. Perhaps most forward-looking was the Committee's urging "that the State, in concert with other New England States and New York, take every appropriate step to obtain early Congressional approval of funds for a sound and effective flood control program." In 1960, the Army Corps built the Thomaston Dam, the Northfield Brook Dam, in 1965, and the Colebrook Dam, in 1969. These dams and other flood control projects are designed to prevent a diester such as the Flood of '55.
Lesson Plan and Activity
Lesson Plan – Flood of 1955
Lesson Plan – Flood of 1955 (Answer Sheet)
Flood of 1955 – Activity