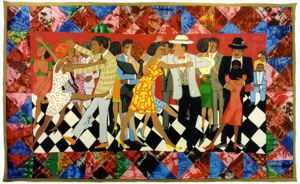 (b. 1934)
Groovin' High, 1996
Silkscreen, 32 ½ x 44
Purchase, Acquisition Fund  2014.11
Since the early 1960s, Faith Ringgold has been known for her story quilts, paintings and prints, and children's books. Her work is informed by her activist support of the feminist and civil rights movements and she often shares the fascinating story of her life as she looks back on her struggles, growth, and triumphs. Ringgold, who was born in 1930 in Harlem, was one of the first female artists whose embrace of textiles and fabrics in sewing, weaving and quilting resulted in a significant shift in the art world in which these objects, formerly known as women's work, were exhibited and accepted as fine art rather than craft.
This silkscreen is filled with color and pattern and reflects the formal treatments of shape, color and perspective reminiscent of painters whose styles defined the Harlem Renaissance, that immensely productive and creative cultural movement of the 1920s and 1930s that grew out of the African American community living in New York City. Groovin' High was inspired by Ringgold's memories of Sunday afternoon dances at the Savoy and her connection to her native Harlem neighborhood. The title references jazz composer and trumpeter Dizzy Gillespie's 1945 bebop classic.