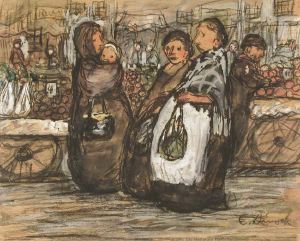 (1876-1955)
Market Place, c. 1915
Watercolor, 7 x 8 ½
X68.336
Born in Hartford, Connecticut, Edith Dimock was heir to her father's prosperous silk manufacturing business but she eschewed a business career for art. Her desire to become a painter dated to her childhood. She moved to New York City in her early twenties and enrolled at the Art Students League where she studied with American Impressionist William Merritt Chase (1849-1916). She became an admired watercolorist, active between 1902 and 1925. Her scenes chronicle women and children of the working and middle classes out shopping, talking, walking, and usually seen in motion. Dimock excelled at the quickly noted impression – she used the simplified shapes of modernism in vibrantly colored, fresh images.
Dimock married Ash Can School artist Williams Glackens in 1904 and he recorded their happy family life in many paintings. Unfortunately, much of Dimock's output is lost. What survived – a body of work consisting of one painting, about sixty known watercolors, and reproductions of forty-eight book illustrations – reveals a master of the watercolor medium with a fresh vision fixed on the humorous, whimsical aspect of the urban scene.