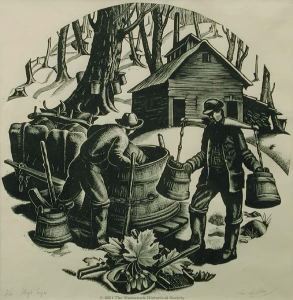 (1898-1989)
Maple Sugar 1951
Woodcut, 7 3/8 x 5 3/8
xp 68.139
Well known author, and book illustrator, Clare Leighton was born in London and came to the United States in 1939. She lived for a short while in the South before discovering Cape Cod in 1944 and moved to Woodbury, CT in 1952. Her decision to move north was instigated by a commission from Wedgewood in 1950 for a set of twelve circular wood engravings of New England Industries to be issued as limited edition plates. Maple Sugar is an engraving used to produce a plate in the series that also included Cod Fishing, Logging, and Tobacco Growing among others.
Leighton drafted the text to accompany the images. Of Maple Sugar she wrote, "before the ice and snow have departed the Vermont farmer taps his sugar maple trees for the flowing sweet sap as it rises from its winter retreat. Many gallons of sap are needed for crystallization into one pound of maple sugar, but the fame of the sugar remains undiminished since the days when the first rugged New Englander tasted this delectable harvest."
Leighton's love for the land and those who worked it combined with an elegant technical vocabulary to produce elegant views. The rounded contours of the hills as they move backward gives a broad depth of field in which she sets the action. The linear pattern of the trees, workers, and sugaring tools are placed against this woodsy backdrop uniting man, work and nature.
The Mattatuck Collection includes many Leighton woodcuts as well as a set of Wedgewood plates designed by Leighton commissioned by Watertown's Taft School in 1953.